Let's start with the numbers.
How Much Do Used Pontoon Boats Cost?
| | | | |
| --- | --- | --- | --- |
| Boat Size | 1 Year Old | 3 Years Old | 10 Years Old |
| 18-22 feet | >$50,000 | $25,000 – $40,000 | $5,000 – $10,000 |
| 23-26 feet | >$60,000 | $30,000 – $55,000 | $10,000 – $25,000 |
| 27+ feet | >$80,000 | $50,000 – $75,000 | $30,000 – $55,000 |
We all know that pontoon boats are the preferred ease-of-use, family boat, but they're also great for one important reason: longevity.
Any boater knows that an old pontoon boat is still a great vessel to have. While it may be fun to have the latest and greatest model, pontoons don't have to be shiny and new to be functional and perfect for your needs!
That's why we've compiled a great list of used pontoon boats and their prices. We hope to give those looking to buy a used pontoon boat the tools and examples they need to make an informed decision.
Most used pontoons can range from as cheap as $5,000.00 to as expensive as hundreds of thousands of dollars. So, without further ado, here are 15 Used Pontoon Boats with Prices and Examples!
Pontoon Boats Under $10,000.00
Affordable does not mean less-quality. Find your next pontoon boat without breaking the bank!
1. 1993 J C Suntoon 24
The 1993 J C Suntoon 24 is a great starter family boat for anyone interested in getting a used pontoon!
Designed with the unique John Cripe Manufacturing designs, these pontoon boats are incorporated with high-grade aluminum and are protected with lifetime warranties. Sometimes classic is even better than brand new!
The 1993 is 20′ in length and propelled by a J70TLE engine, and can seat between seven and ten passengers.
Price: $5,000.00
2. 2007 Sun Tracker Bass Buggy 18
The 2007 Sun Tracker Bass Buggy 18 is a spacious and classy older model perfect for small gatherings of family or friends.
This boat slices through the water and is great for long trips on the lake. At 18′ in length, this pontoon is a perfect size.
With plenty of storage space and a wide deck, the Sun Tracker pontoon is great for filling the day with activities.
Also, the retractable awning is easy and practical to use – perfect for those much hotter days.
Price: $5,500.00
3. 1997 Manitou Legacy
A bigger boat, the 1997 Manitou Legacy, measures in at 24′. This gorgeous pontoon is perfect for large families and the family dog. You can spend hours in the sun or shade of the Manitou's spacious awning.
Tired of sitting in a comfortable seat? Sit up front and dip your toes off the edge of this fantastic boat!
The manitou legacy is steady and slow for relaxing fishing trips while also being fast and sturdy when you're pulling an inner tube or pair of skis.
Don't forget to pack a lot of stuff! The space on this boat is almost too much! You'll want to bring coolers, snacks and your best friends for this one.
Price: $5,995.00
4. 2010 Tracker 24 Party Barge
One of the newer models on the under $10,000.00 list, the 2010 Tracker 24 Party Barge is a gorgeous addition to the list!
With plenty of seating on board, this party barge lives up to its name! More than just a large vessel, this boat offers a lengthy list of comfort and convenience features to ensure your every day on the water is as perfect as possible.
At 24′ long with storage space, two platforms on the front and back, as well as tons of seating, you'll never run out of space to fit yourself, your family, and all your friends.
Make sure to pack music and swimwear, because this pontoon is really a party!
Price: $6,500.00
5. 2007 Avalon TROPIC 24
Based in Alma, Michigan, Avalon Pontoon Boats is a versatile watercraft company that makes great pontoons for family and group outings!
The 2007 Avalon Tropic, in particular, is one of the crown jewels of affordable pontoons from Avalon.
Filled with plenty of space and a huge awning for all your shade needs, the Avalon Tropic pontoon is a great addition to this list!
Don't miss out on an opportunity to join the Avalon brand by getting your very own!
Price: $7,995.00
Pontoon Boats Under $50,000.00
For those who are ready to embark on a bigger, more luxurious pontoon, the ~$50,000.00 range might be for you! With all the great interiors and designs of those more expensive models, these middle-range boats are perfect for you and your loved ones!
6. 2016 Bennington 22 GPD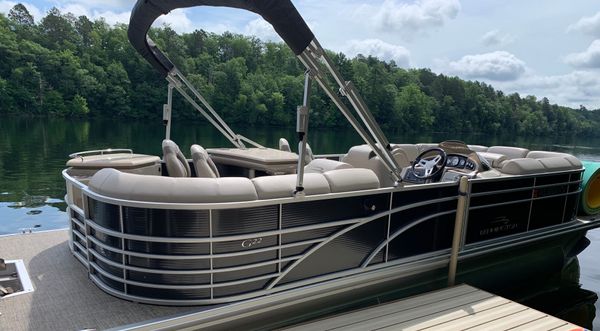 This 2016 Bennington G22 GPD model is a great boat for two or ten; whether you're out for a romantic outing on a calm lake or cruising over waves with the whole family, this pontoon is perfect!
Powered by a classic Yamaha 4 Stroke 115HP and a gorgeous interior, this beautiful boat is great for everyone. Its best features are its many cupholders, ski two bar, speaker sound system, and stereo with Bluetooth compatibility.
Don't miss out on these amazing models while they're still used and on the market!
Price: $39,999.00
6. 2017 Godfrey Aqua Patio AP235CB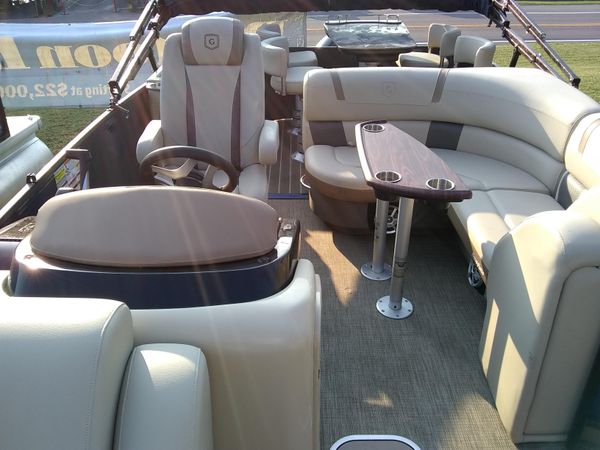 Another gorgeous boat (but hitting it close to the nose on the $50,000.00 budget mark), this 2017 model is rare to find as a used boat!
With its dazzling upholstery and its versatile interior design, this pontoon boat definitely says, "luxury"! There is an endless number of possibilities for fun in the sun on a Godfrey Aqua Patio.
Measuring in at 24′ and covered head to toe in beautiful design and interiors, this boat is an eye-catcher and the lake's jewel!
Whether it is dining, swimming, reading, tanning, or socializing, you can't go wrong with this gorgeous boat!
Price: $48,900.00
7. 2019 G3 V20c Sun Catcher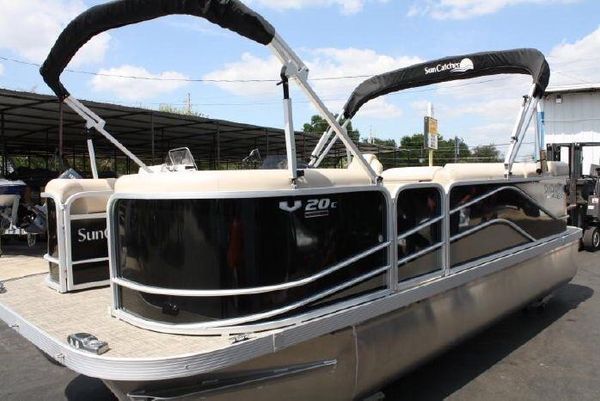 Seating eleven and powered by a classic Yamaha 70HP 4 Stroke, this stunning and brand new boat from the G3 boat brand is a rare find!
For a great value, even when new, these pontoons are outfitted with color-coordinated dash panels and storage units with liftable tops for easy access.
You'll love how spacious and open the design is of these boats in their interiors, as well as how well they fit in with any situation and crowd of people!
With storage beneath every bench and seat, you'll have plenty of space for your swim gear, food, bags, and nets. There's nothing more you could want from a pontoon than the Sun Catcher has to offer!
Don't forget to bring your friends! Did we mention that it seats eleven?
Price: $42,500.00
8. 2016 Starcraft CX23 RE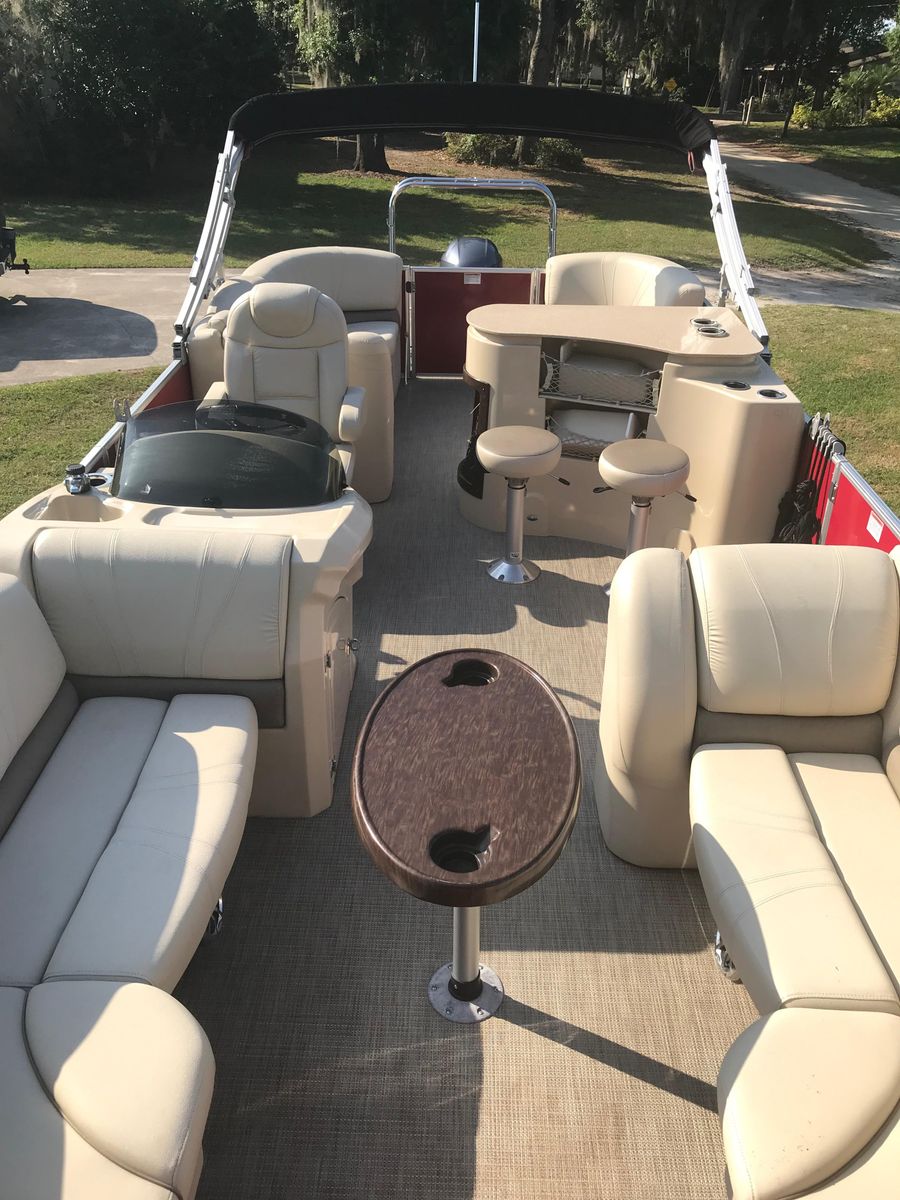 Not only is the 2016 Starcraft CX23 RE a beautiful pontoon boat, but it also comes with its own minibar!
You've never seen a luxury cruiser pontoon boat like this one before. What's more? It's a great deal at less than $30,000.00!
Without being too big, this amazing boat measures in at 23′ and is perfect for any small family or gathering of friends! Cozy up on its soft couches, or listen to its premium stereo system!
Then, pull up a barstool and serve some sunrises beneath a freshwater sunrise or a blue lagoon on Florida or California's salty coasts. Either way, you're going to be impressed by this one!
Price: $29,995.00
Pontoon Boats Under $100,000.00
Bringing out the big guns in this section, these pontoon boats are used, recent models with nearly limitless luxury! You'll never go wrong with one of these, provided your budget can handle it!
9. 2019 Crest Savannah 250 SLS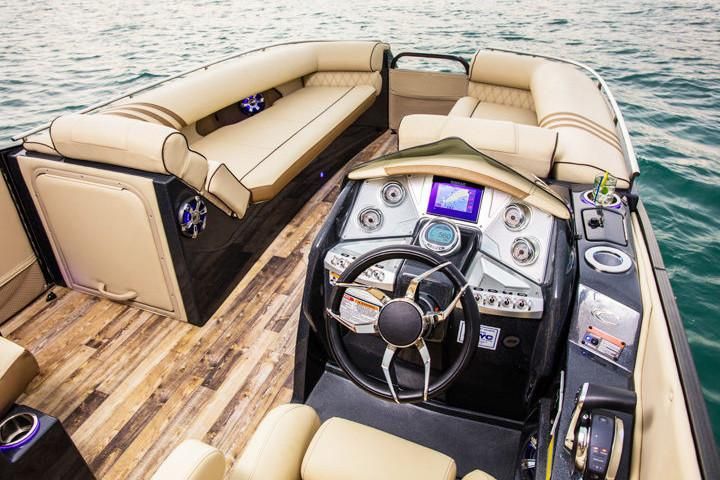 Designed with the best in performance, style, and luxury, the Savannah challenges the idea of what a pontoon can be!
You'll think you were in your own living room with the design of this impressive interior, as well as the overall sleek design of the boat itself!
Never leave the comfort of your pontoon as you dive deep into the storage space available for drinks, supplies, tote bags, and gear! Outfitted in aluminum, stainless steel, fiberglass seat bases, and soft, luxury seating!
More than just a boat, you could practically live on the 2019 Crest Savannah pontoon – and don't you want to?
Price: $94,000.00
10. 2019 Crest III 220 SLS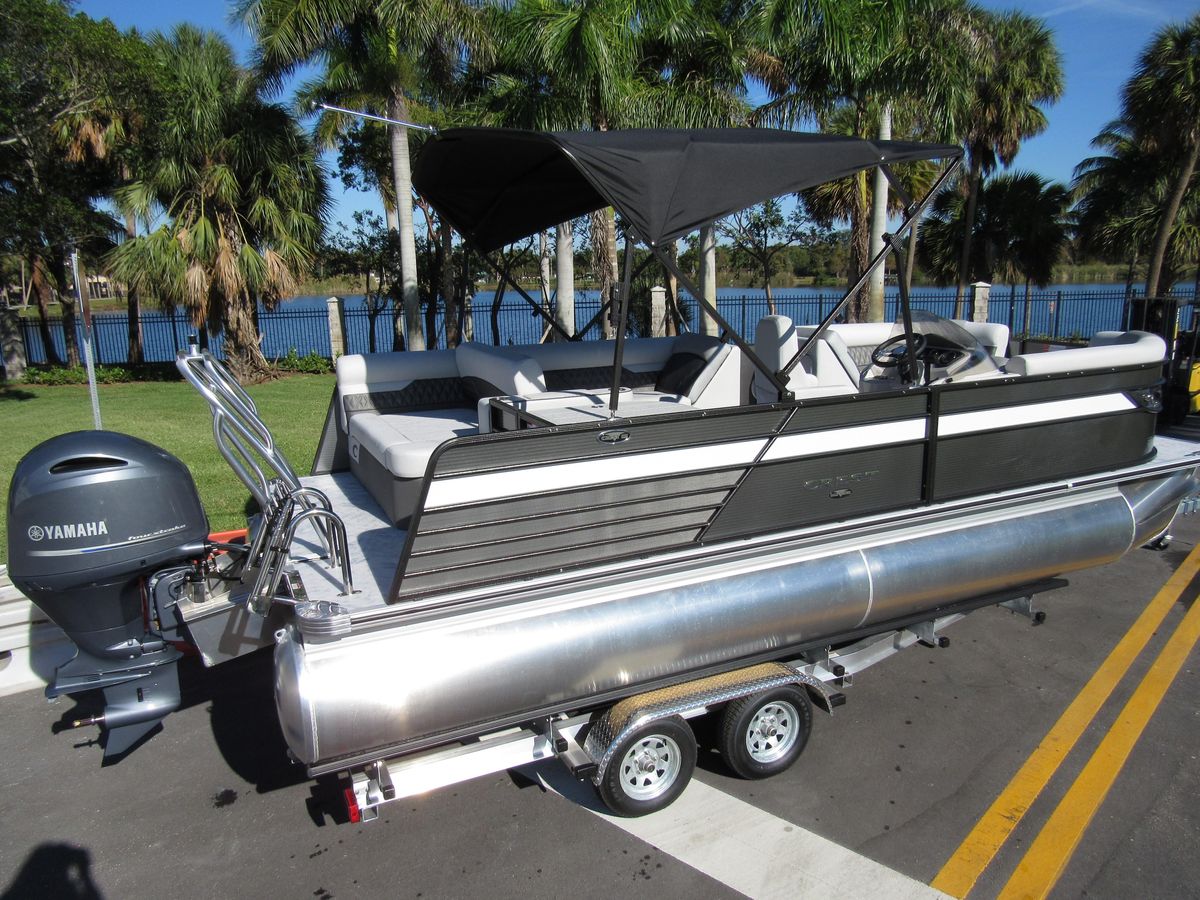 This 2019 Crest III 220 SLS measures in at 24′ and are outfitted with a powerful Yamaha F150LB motor.  Perfect for your favorite fishing spot, this classic design is simple and comfortable.
Still, this easy-going pontoon boat is great for singles or couples looking to getaway in the lap of luxury.  While it is still ready for the party to start, you'll find it better in calmer waters.
Nestled in the ~$50,000.00 range, this pontoon is affordable and fancy! Feel free to play the latest hits on a premium stereo system or jam quietly to classics; this pontoon can do it all!
Price: $56,000.00
11. 2019 Starcraft SLS3
Powered by a 200hp Honda outboard motor, this 23′ luxury pontoon is perfect for any weather or guest list.
Another affordable luxury pontoon, the Starcraft SLS3, is just waiting for someone to snatch it up! Rare to see 2019 at such a low price, this amazing boat is perfect for any boat owner looking to get their first affordable luxury pontoon!
Outfitted with sleek designs, colors, and features, you can't go wrong with this pontoon! Over eleven guests, cupholders, storage space, and speaker sound systems will make this pontoon a party boat in no time!
Price: $62,900.00
12. 2019 Berkshire 23E STS 2.75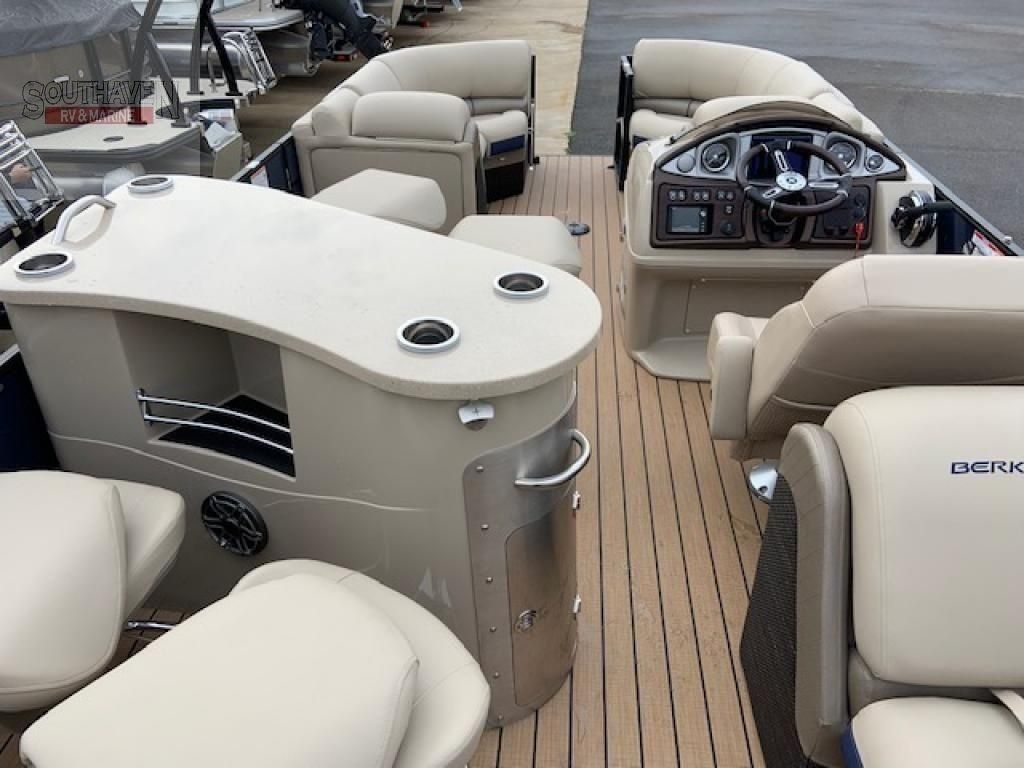 This 2019 Berkshire 23E STS is powered by a 2019 Mercury 150L motor designed with stylish upholstery, contemporary rail design, and high-end amenities.
More than that, this pontoon is outfitted with a soft-touch premium backing interior with vinyl wrapped seat bases and an extended stern swimming platform.
It's wood finishing, and onboard mini-bar is an unbelievable luxury for such an affordable price!
With nearly twelve under-seat storage compartments, several cupholders, retractable awning, and a fiberglass console, you can rely on this pontoon to be around for a long time.
Family memories start here, on the 2019 Berkshire 23E STS 2.75 pontoon boat!
Price: $59,000.00
13. 2017 Avalon LTZ Entertainer 2485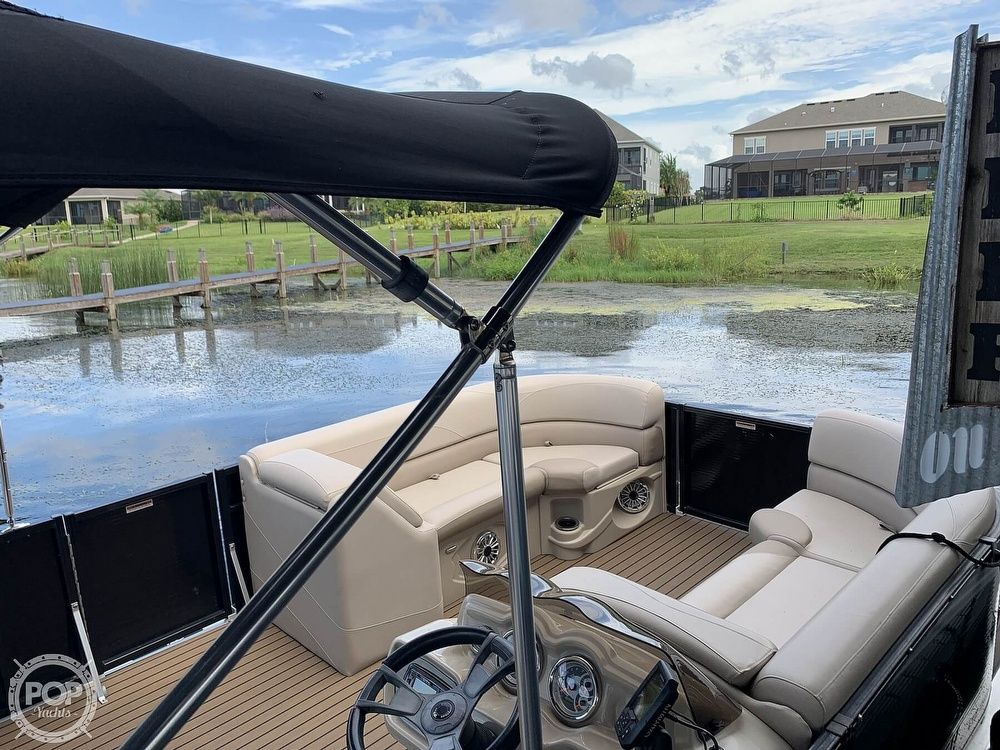 The 2017 Avalon LTZ Entertainer 2485 is perfect for families and friends who love a good time at a  reasonable price. With fantastic interiors, plush seating, a loud sound system, and interior LED lighting; this party pontoon is perfect!
Able to fit twelve, this pontoon will never run out of space. Each seating compartment can fit any day's gear, bags, life jackets, or supplies.
The Avalon LTZ Entertainer can be great for hot days in the sun or shady evenings at the dock. You can't go wrong with this gorgeous pontoon boat!
Price: $55,000.00
14. 2015 Bennington 2575 QCW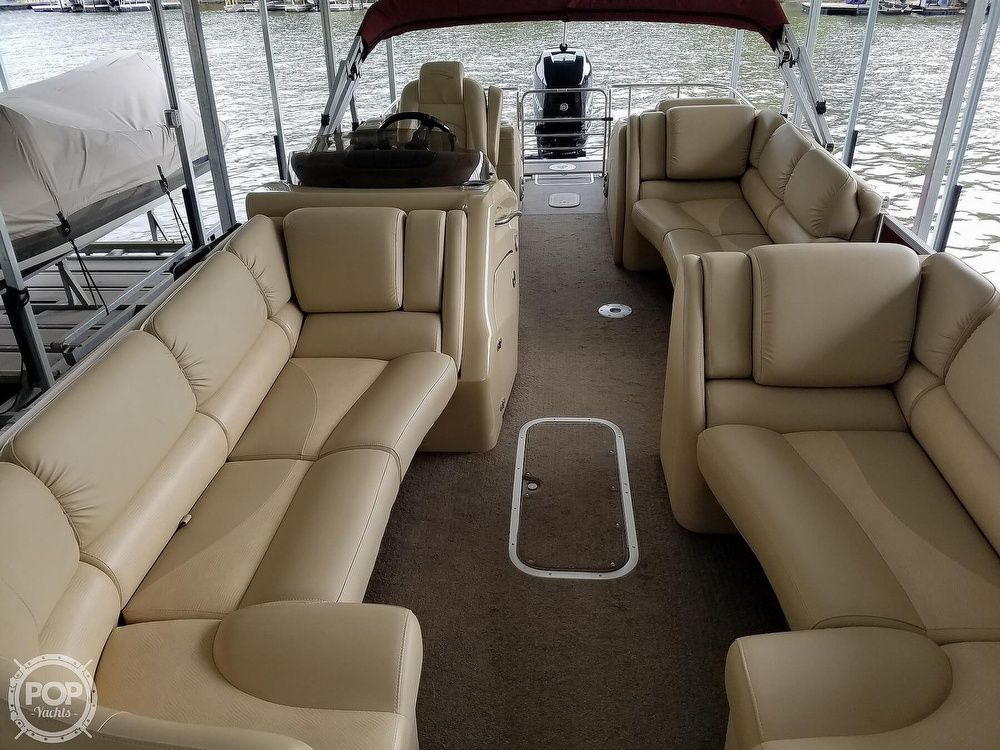 This is a pontoon boat designed with practical features for a day on the lake in comfort and luxury. With the idea of luxury and affordability in mind, this pontoon boat is great for anyone looking for an easy day on the lake.
The upholstery on this pontoon boat is soft and supportive; for maximum comfort, the Bennington Pontoon brand allows for lumbar support and foam with five different densities in the seat backing.
From swimming to fishing, this pontoon will deliver on any promises it will make.
Some pontoon features include a high-performance carpet for even the wettest days, Bluetooth compatibility, LED lighting, six speakers, and a bench seat cooler for all those frosty drinks on the lake.
What are you waiting for?
Price: $65,600.00
15. 2018 Bennington 25 QX FBWA
Our final luxury Pontoon, the 2018 Bennington, is another step toward total luxury under $100,000.00.
One of the fastest models of luxury pontoon boats, this amazing model comes with a windscreen to protect the captain's chair. It's a powerful outboard motor, and a sleek design will cut through the waves as you make your way to the middle of the lake.
Once you are there, customize your personal LED lighting to various colors and jam out to six different speakers in your premium sound system.
While this boat is a little more pricey on the used pontoon list, this one may be worth it!
Price: $98,000.00
Things to Consider When Buying a Pontoon:
Pontoon boats have changed a lot in the last few decades. It is important to ask yourselves plenty of questions before you decide to buy a used pontoon.
Here is a list of things to consider if you're still on the fence about what you need:
How much seating do I need?
Will this primarily be for relaxing, partying, luxury or fishing?
How fast do I want to go?
What kind of motor do I need?
What kind of bodies of water am I sailing on?
Do I need all that luxury, or something more simple?
All of these questions can be answered or narrowed down with this amazing list compiled for you here. Looking for more space but less speed? Consider one under $10,000.00. Looking for luxury? Over $50,000.00 is your best friend!
Final Thoughts:
Pontoons can make a family vacation complete. It's important to invest in one that will last, bring you joy, and help you make all those memories.
What are you waiting for?
Was this article helpful?
Did you find wrong information or was something missing?
We would love to hear your thoughts! (PS: We read ALL feedback)